Pulpí
Beaches and plains to get lost in!
Pulpi has white sandy beaches and abundant vegetation with a touristic nucleus like San Juan de los Terreros, and with virgin spaces like the isles of Terreros or of Las Palomas which are of great ornithological interest.
The tourists can take a walk through the town centre, visiting its church from the 19th Century which is of great archaeological interest. Also visiting its square and its streets. Another monument is La Bateria de San Juan de los Terreros which was built between 1759 and 1764 in baroque style.
However, the main attraction of this town are its beaches and plains, with volcanic flora and its beautiful sea beds.




Click on the pictures to expand
DELTA 97 properties for sale in Pulpí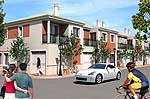 Hierbabuena Residential
14 town houses of 1st class quality in Pulpí
Future Promotions in Pulpí
Hierbabuena Residential II, Cine La Fuente...